Photo Taken 09-24-23 @ 4:32PM

This ISN'T THE FIRST TIME That The City Has

IGNORED GOVERNOR WALZ'S ORDERS; Certainly

It  WON'T Be The LAST Time !!In Addition To DISRESPECTING IT'S OWN FIRE

FIGHTERS, There's CLEARLY SOMETHING SERIOUSLY WRONG With A City That THINKS IT DOESN''T HAVE TO COMPLY With An ORDER BY THE GOVERNOR Of MINNESOTA !!

E-mail Sent Out By The

Governor's Office On 09-22-23:

GOVERNOR WALZ ORDERS FLAGS

TO FLY AT HALF-STAFF

FOR FALLEN FIREFIGHTERS

Governor Walz Orders Flags to Fly at Half-Staff for Fallen Firefighters Governor Tim Walz today directed all United States and Minnesota flags at state buildings to be flown at half-staff from sunrise until sunset on Sunday, September 24, to honor firefighters who have been killed or injured in the line of duty. This order occurs annually in honor of Minnesota Fallen Firefighters Memorial Day.

"We rely on our firefighters to respond quickly to emergencies and protect communities across Minnesota, and every firefighter deserves to come home at the end of every shift," said Governor Walz. "On Sunday, we recognize those who have made the ultimate sacrifice in the line  of duty in service to  their communities."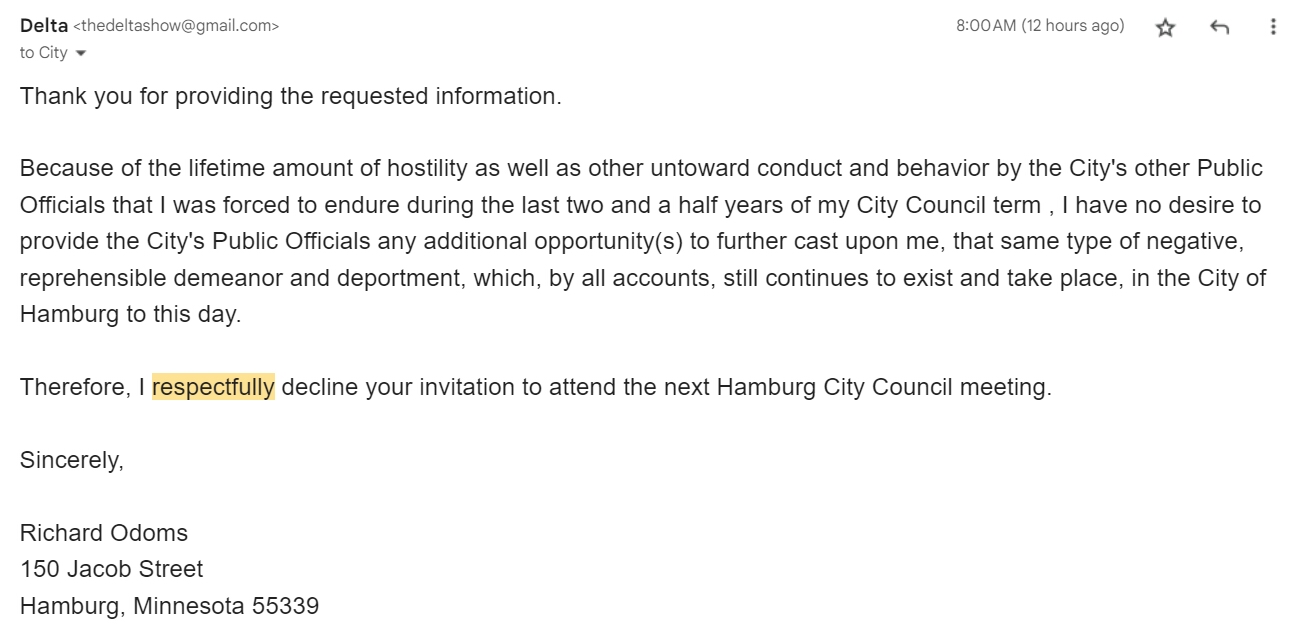 DUE TO THE RECENT REFUSAL BY THE CITY OF HAMBURG TO PROVIDE VERY

BASIC, PUBLIC INFORMATION ABOUT THE PROPOSED SUB-DIVISION

OF PROPERTY IN THE CITY, A PORTION OF THIS WEBSITE IS NOW

TEMPORARILY UNAVAILABLE.

I'VE CREATED A NEW WEBPAGE WHICH WILL INCLUDE MY COMMUNICATION

SENT TO HAMBURG CITY CLERK/TREASURER JEREMY GRUENHAGEN

ABOUT MUCH OF WHAT IS TAKING PLACE  'BEHIND THE SCENES'

THAT THE PUBLIC IS NOT AWARE OF (But SHOULD Be) !!

MARK MY WORDS: 'THE CITY' Is Attempting To Use ALL OF THE 'TOOLS' AT IT'S

DISPOSAL Along With 'COVERT' And  'STEALTH LEGAL GYMNASTICS'

To SURREPTITIOUSLY 'TARGET' A LOCAL

Resident & Business Owner Trying To

FORCE HIM 'OUT OF BUSINESS' !!

HAMBURG CITY OFFICIALS Are NOT 'NICE PEOPLE' !!

PLEASE CHECK OUT MY BRAND SPANKING

NEW (And More REVEALING)

Thanks !!

BECAUSE OF THE COMPLEXITY OF THIS MATTER, THE CITY'S MOTIVES, ALL OF THE DOCUMENTS INVOLVED   AND THE COVERT MANNER IN WHICH THE CITY

IS DEALING WITH THIS ISSUE, I'VE DESIGNED

ANOTHER, MORE DETAILED WEBSITE !!

COPYRIGHT  2023  RICHARD ODOMS

Retired Deputy Sheriff  *  Current Hamburg Resident  *  Hamburg City Council Member 2013 - 2017

Before anyone gets their underwear in a knot, be advised that this Website and/or any of its contents, may NOT be printed, photographed, reproduced, copied, recorded, altered,

modified or adapted, in any manner, without the prior written consent of the Webmaster. The entire content of  this Website remains the exclusive and sole property

of the Website owner and publisher and is protected under the First Amendment Of The  Constitution of the United States of America.